For a connected life
at all times
Somfy is constantly innovating and creating new solutions for a connected, comfortable and safe home.
Discover Connexoon, the solution to live unique experiences and intense moments.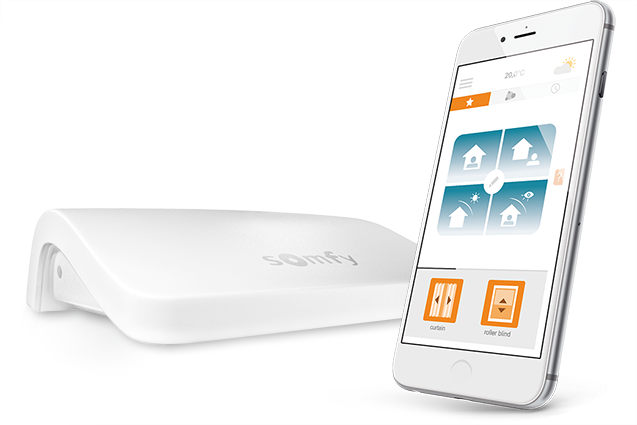 With the Connexoon home automation box, connect and control every environment of the house thanks to its dedicated apps. Connexoon is compatible with io-homecontrol devices and is available on Androïd and IOS smartphones.

3 smartphone applications to choose from to control up to 3 environments of the house: the window (shutters and interior blinds) - the terrace (terrace awning) - access (gate and garage door). Intuitive, smart, fun ... Each Connexoon app has been designed to make life simpler and more beautiful, in one click.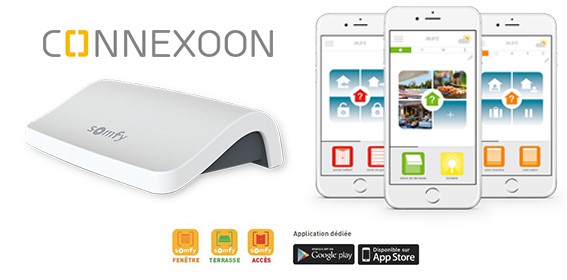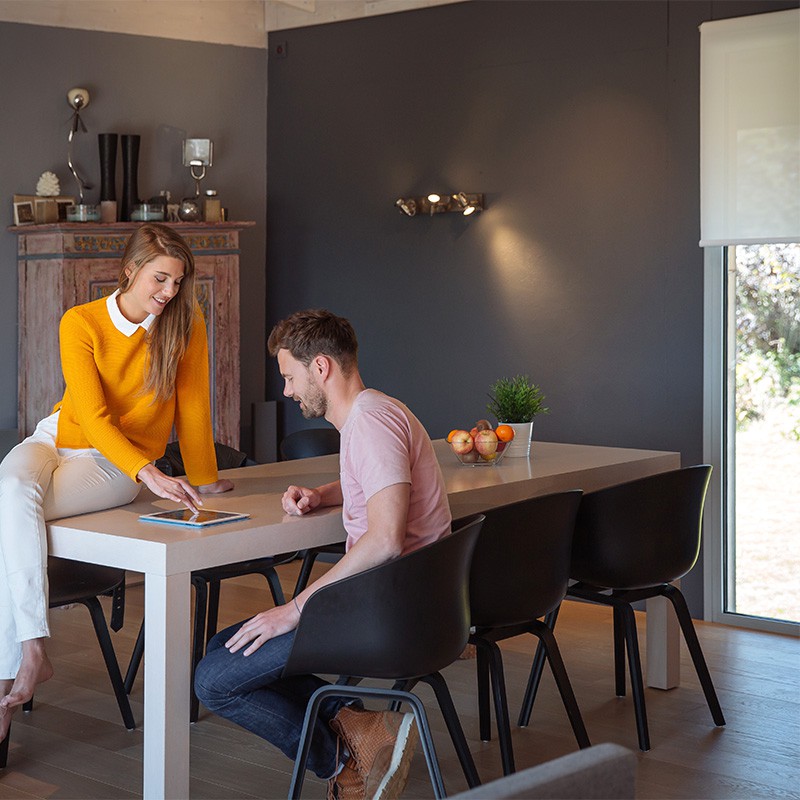 Anytime, Anywhere. Intuitive, Smart, Simple to use.
The Connexoon RTS allows you to operate your somfy motorised blinds and curtains from your smartphone. Enhance your well-being and gain peace of mind with the unique, clear and fun functions that will simplify your life!

App Control for Your Curtains.
With the Connexoon RTS you can operate your Somfy motorised curtains and blinds from your smartphone. Anytime, anywhere. Intuitive, smart, simple to use! Enhance your well-being and gain peace of mind with the unique, clear and fun functions that will simplify your life!

Whenever, Wherever
You can even add lighting accessories tor the Conexoon RTS and control your lights from anywhere via your smartphone – a good security feature for when you are out or away on holiday.

Real, Condensed, Technological Control into your Hands.
While you touch, you control the blinds, curtains, lights, electrical equipment, heating, garage doors and gates, etc. In short, your environment moves with you, so regardless of where you are, in the house, on vacation or at work… you are always at home.

The Best Quality
Create your personalised, welcoming environment by taking advantage of the highest standards of quality & international certifications. Your well-being is complete and your peace of mind is guaranteed for years.

Easy to Install
Simply connect the Connexoon RTS to the internet, install the app on your smartphone and you're ready to connect your blinds and curtains wirelessly.

Interior blind
Invent your home style with blinds !

Fabric, wood, aluminium, PVC or leather…
possibilities are endless when it comes to interior blinds.
While creating ambiance and lighting effects, your window coverings
also play a significant role in your comfort and privacy.
Motorizing interior blinds
Somfy motors can be installed on all types of interior window coverings:
roller shades, Venetian or Roman blinds and draperies.
Why should you consider motorized blinds ?
No more cables or strings that get tangled up! With just one click you can open or close your blind with perfect positioning and alignment. Somfy motors are also ideal for large windows, high-up or hard to reach shades !
SOMFY THE BENEFITS OF A SOMFY MOTORIZED INTERIOR BLIND


The "My" function
Lets you line up all your blinds perfectly with a centralized remote control ?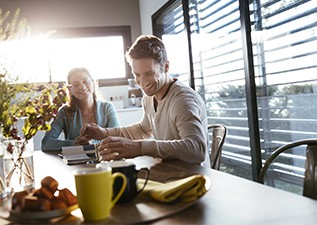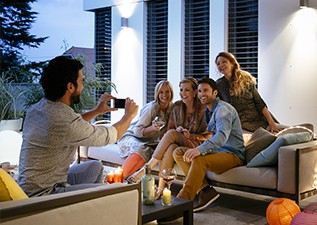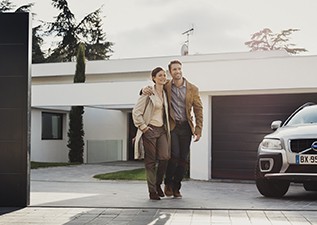 Innovation, services, warranty…
Much more than a motorized interior blind !