Exclusive ROADSHOW promotion to discount????????smart age, change your home.????
Get up to date with the store's. Like Curtain City Facebook page and get a great gift!
Let life be in the palm of your???????? hand!Curtain City exclusive brand of curtain city – 〖SOMFY〗 offer "double play" surprise attack!????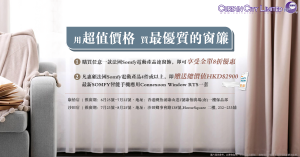 ????Bring the highest quality smart curtains to you with great value!Two new SOMFY series: Irismo and Soness WireFree wireless electric curtains are on sale‼
????Promotion period-
AEON
Promotion period: June 25th to July 22nd
ADDRESS:1/F, AEON, KORNHILL PLAZA (SOUTH), 2 KORNHILL ROAD, QUARRY BAY, HONG KONG
Offer1⃣:Buy any French Somfy electric products with window coverings and enjoy a 20% discount on all orders!
Offer2⃣:If you have 4 or more French Somfy electric products, you will receive a set of the latest SOMFY smartphone application Connexoon Window RTS [total value ????HKD$2900]!
*Intelligent system guests can install or add HKD$1000 to install on their own.
????????Want to know more about the latest curtain products, come to Kangyi shop to visit and buy!????The promotion period is limited, everyone misses La!If you miss this offer, you will know how long it will take!????????